Information regarding your booking
Thank you for choosing us as your rental car partner! Here you will find everything you need to know now.
What we need from you in advance
Deposit and Cancellation Policy
A 50% deposit is required in advance to secure your booking. Exceptions may apply.
Cancellation fee  30 days or more before rental start: 0% (full refund)
Cancellation fee 7-29 days before rental start: 25% of full booking value
Cancellation fee less than 7 days before rental start: 50% of full booking value
Payment
We accept bank transfer, Visa/Master credit cards, cash in N$ or ZAR. For cash payments in foreign currencies additional 3% handling fee will be charged. Insurance excess amount will be blocked on the renter's credit card at pick up of car. In addition, credit card details will be noted on the rental agreement as surity in the event of loss or damage.
Kalahari Car Hire CC
First National Bank Namibia
Acc.: 62268628420
Branch Code: 280679
Swift Code BIC: FIRNNANX
Pickup and drop off times
Pickup of car on first rental day from 08:00 onwards.
Drop off of car on last rental day until 16:00. Late returns will be
fined with N$ 500 for every started hour.
Exceptions only after timely, written and confirmed arrangement with Kalahari Car Hire.
Rental agreement and Terms and Conditions
Feel free to view the rental agreement and a summary of our terms and conditions in advance for further details.
Restricted areas in Namibia
Some areas may not be entered with our rental cars and are excluded from insurance coverage and recoveries. This is because the risk of damage or total loss is too great. Furthermore, these areas are not accessible by a regular towing service. Here are a few examples:
See rental agreement for further details.
Travelling with children
Namibia is a wonderful destination for your family holiday! The ever-changing landscape and diverse wildlife is a real joy for young and old alike and will bring out a sense of discovery and adventure even in the biggest couch potato.
If you are traveling with underage children, please note the following letter from Namibian Immigration:
>> Traveling with children to/from Namibia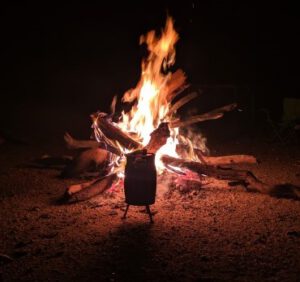 It is strictly forbidden to put any cooking utensils on the open fire.
Penalties of N$ 2.000,- are to be paid in case of disregard.
We are happy to provide a tripod pot (potjie) on request for cooking on open fire.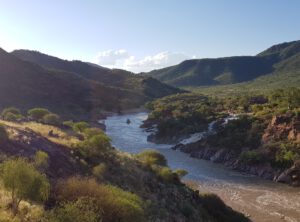 May I leave Namibia? How much does it cost to cross the border into Zimbabwe? Everything you need to know before crossing the border…
All you need to know about which insurance options we offer, what's included and what's excluded…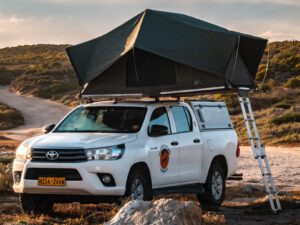 How to open and close a rooftop tent, what is the difference between a standard rooftop tent and an easy-opening hardtop rooftop tent…
Driving on the left hand side, unpredictable gravel roads and breakneck road users can be a particular challenge…